Experienced Domestic Cleaners in Whitechapel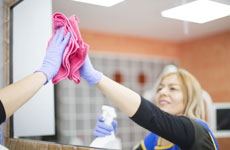 London Cleaning Team has developed a wide range of top-quality cleaning services for your home. Regular or one-off cleaning, carpet or upholstery cleaning and maintenance services, oven cleaning? Whatever your specific requirements are- we will meet them. We also offer a range of high-quality domestic cleaning services: weekly, monthly, and quarterly. There is no task too big, too small or too difficult for the domestic cleaning team of London Cleaning Team. We will provide the house cleaning services, which you need- every client is treated individually with the highest respect.
We also provide Regular Domestic Cleaning and other services in nearby areas including:
You will not only find our services to be highly professional, but you will also come to appreciate the true meaning of the phrase "100% customer satisfaction." We always put the satisfaction of our clients first in the cleaning process. This is how we have done business for the past 20 years, how we do business today, and how we will continue to do business in the future. At London Cleaning Team, you can be sure of cleaning services that are second to none in the Whitechapel. We have the references to prove it. To enjoy our free estimates and competitive pricing, reach out to us right away! 
While our home cleaning services will offer you a sparkling clean and hygienic environment, our commercial cleaning services will give you a pristine and healthy office space that will impress your clients and enhance the productivity of your employees. The moving cleaning services we offer will ensure that you move into a new, cleaner, and healthier home. Despite our top-notch cleaning services, we do not overcharge our clients. At London Cleaning Team, we strongly believe that everyone deserves an immaculately clean and hygienic space, regardless of budget. We will offer you first-class and competitively priced cleaning solutions that will leave you completely satisfied and that will not break the bank.
Our cleaners are selected under strict criteria and have current police checks. We understand that you don't want new people in your home each time your home is cleaned, so you can expect the same friendly face in your home each time we visit. We realize that trust is important when allowing another person into your home to do work, and so we aim to alleviate these concerns by sending you a respectable, well-presented cleaner so that you will feel comfortable within your home. We believe that happy staff do a great job. We expect a high standard from our staff, but also value them and reward them fairly for their efforts.
London Cleaning Team was established in London in 2009. London Cleaning Team offers a variety of primarily domestic cleaning services in Whitechapel. All our employees are extensively trained in our cleaning method, so we ensure that we clean your home more thoroughly and effectively than other cleaning companies. As you would expect our home cleaning service is accredited and offered complete with a service guarantee. Our cleaning teams are fully vetted and they will arrive at your property in uniform, with ID and in our in our visible smart London Cleaning Team vehicles. All the cars are equipped with trackers so that we can be sure they arrive at a convenient time for you.
London Cleaning Team offers great office support and communications to ensure that you get the most out of the services that we offer. You get supervised cleaning, call and text reminders, follow-up calls and total support. We use quality cleaning products which are both environmentally friendly and very effective. We also carry our cleaning equipment to ensure that no matter what we can get the job done. We offer a variety of services, which are very flexible so that your bookings ensure that we clean for you. A complete home cleaning service. Choose the hours, choose the frequency, choose the rooms and areas we clean, or simply leave us to get the job done. To reach our cleaners in Whitechapel just call us on 020 3746 2490.
The nearest tube station serving E1 Whitechapel is Aldgate East.
List of services we provide in E1 Whitechapel :