One-off Spring Cleaning Service in London
If you require a one-time deep cleaning after a party or holiday, or you need assistance with the spring de-cluttering to return your property to mint condition after the winter, call us today to book your visit from the leading suppliers of expert home services in London.
Our One-Off Cleaning in London Service Description
A one-off service is a one-time session designed to thoroughly sanitise your domestic environment or office. It's also known as deep or the seasonal spring cleaning. If you don't need regular visits, then this is the perfect service for you. We can send a professional maid or a team of them to your property on a date and time that suits your personal schedule.
Тhis specific one-time cleaning session is charged by the hour and the professionals will cover as much as possible for the time booked. You can give us a list of priorities to follow. That being said, you can tailor this service to match your individual requirements. We can perform a thorough property cleaning or focus on certain areas and carry out a deep bathroom and kitchen sanitizing.
The spring cleaning can cover all rooms in the house and includes most tasks and chores that are usually performed such as hoovering, dusting, wiping, removing spider webs, clean drawers, sanitary wares and many more.
Our deep cleaning is specially designed for customers, who need to book an appointment for a special occasion or because of an urgent situation. Whatever the reason - don't worry! Our well-trained housekeepers will help you impress your guests with maintaining and style. Don't hesitate to contact us anytime you want - our phone line is open 24/7. Аnd for a really clean and shining property you can combine this service with professional window cleaning and admire the outstanding results and preferential rates.
More About Our Professionals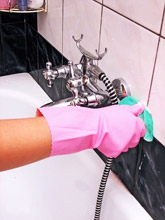 All of the employees are fully insured, strenuously vetted and well-trained in the use of top of the range professional equipment. They can take care of everything from the floor mopping and professional carpet cleaning to ensuring that your kitchen appliances are sanitised and sparkling.
Being a professional company with many years of experience in the business, we've been able to develop extensive service packages that suit any budget and needs. The service duration may vary depending on the size of the premise and your list of requirements.
How to Book Your One-time Cleaning Session
You can schedule a visit for any day of the week and because we are locally based you can be sure of getting unbeatable value for money - just take a look at our prices page.
You can even book same day appointments, so call us today to speak to one of our customer service advisers about the services that we can provide.
So if you require this specific service call 020 3746 2490 to book your visit from the professionals. You can also reach us by completing the contact form and we will give you a callback.
Some of the areas we cover