Qualified Carpet and Rug Cleaners in Swanley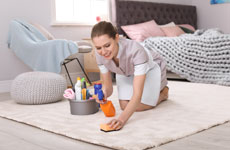 London Cleaning Team knows that your orient rugs and carpets are not just pieces of furniture. They represent the individuality of your home in Swanley, remind of exciting memories from distant travels and can be a very good investment of money. Don't waste money and time and call our local cleaning team. rugs are often handmade originals. But only with the right maintenance and cleaning, they can last for decades, increasing their value as time passes. The technologies we use are not in any way harmful to the fibres or the colours. The method our experts apply depends on the design and fabric of the rug or the carpet.
We also provide Expert Carpet Cleaning and other services in nearby areas including:
At London Cleaning Team - the premier carpet and rug cleaning services in Swanley, we recognize the value of all your carpets and rugs and use a variety of methods to ensure the most thorough clean. Some rugs or carpets benefit from dry-foam cleaning that uses low moisture combined with detergent granules to grab deep-set dirt and pull it to the surface. Others may require a more deep-penetrating cleaning solution involving steam or water extraction. Your London Cleaning Team specialist can advise you on the best method for your particular rug or carpet.
London Cleaning Team only allows specific operator teams to perform this service. A minimum of two operators is dispatched and most furniture is moved. Carpets in most cases are returned to better than new condition. All soils including dirt, dust mites, perspiration, abrasive soils, natural oils, pet by-products, dust, grease, oil, and ground in foods will be removed. All smells including smoke, pet odours, food, and other smells are effectively removed. High-powered air movers are used to assisting in fast drying. Protector is applied to help prevent re-soiling and to protect against permanent stains caused by accidental spills. Your home is left with a clean smell and a healthy environment.
Do you make sure your home is clean? Do you at the same time take proper care of your rugs and carpets? Perhaps you assume as you do not use them so often, they do not need them? Well, this is not the case. They not only need cleaning- they need a competent one. Dust and germs can be devastating for a rug, but you can not trust just anyone to do the delicate job of cleaning the fine tissue. The cleaners from London Cleaning Team treat each rug and carpet with great consideration. They are trained and skilled; use only the most adequate present-day techniques. It will take them just a short time for an inspection to choose the right one.
Because proper maintenance isn't simply a matter of doing it yourself as an onerous weekend-killing chore, you need experts with the right set of skills and tools – many of the chemical cleansers on the market today can harm or even destroy fine fabrics. We offer all-natural mixtures which gently clean carpets, rugs, drapery, and upholstery without residues that can harm you or our environment. And that's exactly what makes us London Cleaning Team!
We offer these services and more as well as pickup and delivery to provide flexibility around your schedule. We understand the attachment that individuals can form with their rugs and carpets so before you make any decisions regarding your damaged floor covers, give the professionals at London Cleaning Team a call at 020 3746 2490 for a free estimate today. At London Cleaning Team we gladly welcome the opportunity to demonstrate our service quality and the reliability of our company. We guarantee you complete professional service for all your rug and carpet cleaning needs. Our future and success depend on your complete satisfaction.
List of services we provide in BR8 Swanley :