Professional Carpet and Rug Cleaners in Chislehurst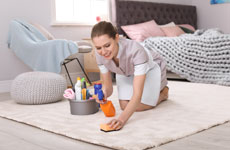 London Cleaning Team knows that your orient rugs and carpets are not just pieces of furniture. They represent the individuality of your home in Chislehurst, remind of exciting memories from distant travels and can be a very good investment of money. Don't waste money and time and call our local cleaning team. rugs are often handmade originals. But only with the right maintenance and cleaning, they can last for decades, increasing their value as time passes. The technologies we use are not in any way harmful to the fibres or the colours. The method our experts apply depends on the design and fabric of the rug or the carpet.
We also provide Expert Carpet Cleaning and other services in nearby areas including:
Indeed, we clean so well that it could almost qualify as restoration work! (Though we do have craftsmen on the staff of such expertise that they can even restore fine antiques and heirlooms to their original pristine conditions!) That's because we understand how important your fabrics are to you. As part of our concern, we offer you free no-obligation consultations in your home or at your office in Chislehurst to properly and professionally assess your situation. Plus, we offer a 30-day guarantee in addition to being licensed and insured for your peace of mind.
We know rugs and carpets are made of different materials and this is why we offer different approaches to them. Cotton, wool, afghan or Persian rugs- you can rely on us for safe, thorough and professional cleaning services. Plus the dry cleaning services, which London Cleaning Team provides, we apply other different methods.
All London Cleaning Team technicians are in-house certified, and we are a licensed, insured, as well as bonded firm. London Cleaning Team uses two-person teams consisting of 1 lead technician and 1 assistant technician to maximize the quality of our carpet cleaning services. London Cleaning Team only allows specific operator teams certified to perform this service. We have area rug technicians on staff with more than 10 years of experience. A minimum of 2 operators is dispatched for all cleanings.
London Cleaning Team only allows specific operator teams to perform this service. A minimum of two operators is dispatched and most furniture is moved. Carpets in most cases are returned to better than new condition. All soils including dirt, dust mites, perspiration, abrasive soils, natural oils, pet by-products, dust, grease, oil, and ground in foods will be removed. All smells including smoke, pet odours, food, and other smells are effectively removed. High-powered air movers are used to assisting in fast drying. Protector is applied to help prevent re-soiling and to protect against permanent stains caused by accidental spills. Your home is left with a clean smell and a healthy environment.
At London Cleaning Team - your expert carpet and rug cleaners in Chislehurst, we take all these steps because we understand that you are placing not just a rug under our care, but also an investment and a major part of your home's overall décor. We take our responsibility seriously and strive for 100% customer satisfaction. We are pleased to serve customers in Chislehurst. We provide cleaning, maintenance and repair services to the communities. Call today on 020 3746 2490 for more information on our many services. 
List of services we provide in BR7 Chislehurst :